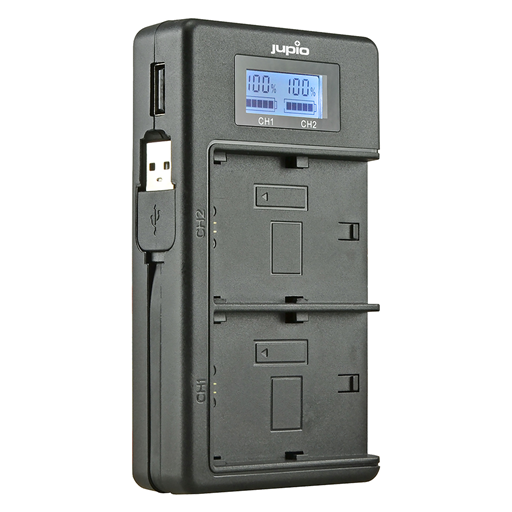 You don't have time to charge your batteries one by one?

No worries because Jupio has a new line-up of USB powered chargers that can charge 2 camera batteries at the same time! The line consists of 13 models that charge the most popular DSLR camera batteries.
The LCD-display shows you exactly what the charge status is. To charge the batteries, you have choice to use the micro-USB input or the USB type-C input.

The Jupio USB Dedicated Duo Chargers are not just normal chargers, there is a unique function built inside this stunning product. You can use these chargers as a powerbank! With 1 or 2 charged camera batteries mounted, you can use the USB output to charge your smartphone, tablet or other USB powered device.


Models:
JDC2001: for Canon LP-E6(N)
JDC2002: for Canon LP-E8
JDC2003: for Canon LP-10
JDC2004: for Canon LP-E12
JDC2005: for Canon LP-E17
JDC2006: for Fuji NP-W126(S)
JDC2007: for Nikon EN-EL14(A)
JDC2008: for Nikon EN-EL15(A)
JDC2009: for Panasonic DMW-BLF19E
JDC2010: for Sony NP-FH/ NP-FP/ NP-FV series
JDC2011: for Sony NP-FM50 / NP-F550/ F750/ F970
JDC2012: for Sony NP-FW50
JDC2013: for Sony NP-FZ100

Buy your model of choice at your local dealer.